The Story of the Annual Pink Panther Plate & Musical Series
From the brochure included with each Christmas collectible...
When the Pink Panther plays substitute Santa, the outcome has to be fun. Royal Orleans has commemorated his rollicking yuletide ride with six annual editions of a fine porcelain Christmas plate complemented by a hand-painted earthenware musical figure. Eash succeeding year brings you a new episode from this inimitable Christmas caper, as the Pink Panther, with the Inspector in close pursuit, helps Santa bring a brighter holiday to all.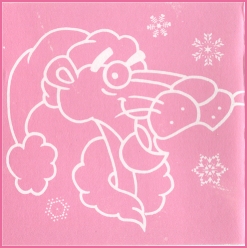 ©2003 - 2004 Lisa Segura